North Carolina – Psychiatry Access Line (NC-PAL)
NC-PAL is a free telephone consultation and education program to help health care providers address the behavioral health needs of pediatric and perinatal patients.
Our Behavioral Health Consultants can respond to questions about behavioral health and local resources, and can connect providers to one of our on-call psychiatrists to assist with diagnostic clarification and medication management questions.
To speak to a Behavioral Health Consultant, call:
Monday – Friday, 8 a.m.–5 p.m.
---
Health Care Providers:
How does it work?
A provider has a question about pediatric mental health.

They call NC-PAL to get information.

Our behavioral health consultants respond to questions within the scope of their expertise and can connect providers to one of our child and adolescent psychiatrists.

Our board-certified child psychiatry team is on hand to assist with diagnostic clarification and medication management if necessary.
What do we help with?
Consultation

Consultation on diagnoses, medications and psychotherapy interventions for a wide range of behavioral health needs (e.g. mental health care guides, screening forms)

Connection

Connection with community resources (e.g. intensive in-home providers, support groups)

Information

Information on government programs (e.g. enrolling families for WIC, CDSA, CC4C)

Guidance

Guidance on behavioral health issues, autism spectrum disorders, intellectual and developmental disabilities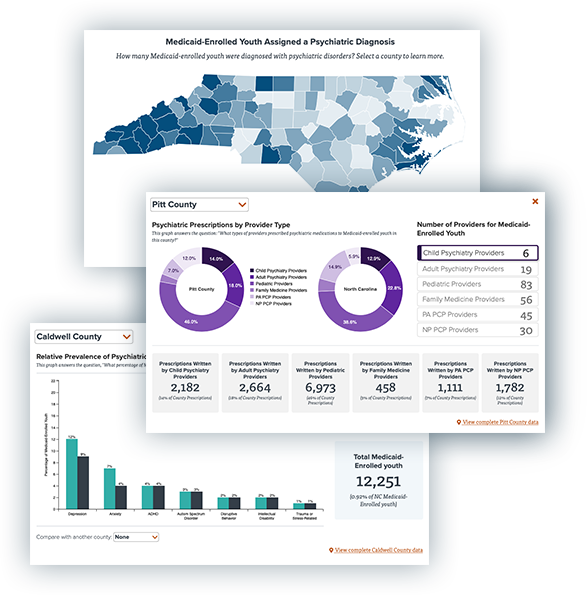 NC Youth Mental Health Care Dashboard
Our primary goal is to improve behavioral health care for youth across North Carolina. We created a series of maps and tables to share this vital information with you to achieve this goal.
Explore the dashboard for insights into diagnoses, treatments, and prescriptions North Carolina youth receive and the providers who treat them.
Additional Resources
In addition to telephone consultation, we provide access to screening forms, educational resources, and additional information to support the needs of PCPs. Providers can access helpful mental health care guides at any time on our website.
Clinician Feedback
"Excellent assistance with a more difficult behavioral health treatment question. Very much appreciate the detailed response, education and efficiency of the call."

"Thank you so much! NC-PAL empowers us as primary physicians to deliver higher quality psychiatric care to our families, and we cannot say how much we appreciate this resource as a group!"

"This is a wonderful resource for primary care. It's always helpful for the focused question I have, but I also learn so much in the process."
Next Up
Audience
Pediatric primary care providers: Pediatricians, family physicians, nurse practitioners, and physician assistants
Description
Patient-Centered Mental Health in…