NC-PAL: Program Solutions and Impact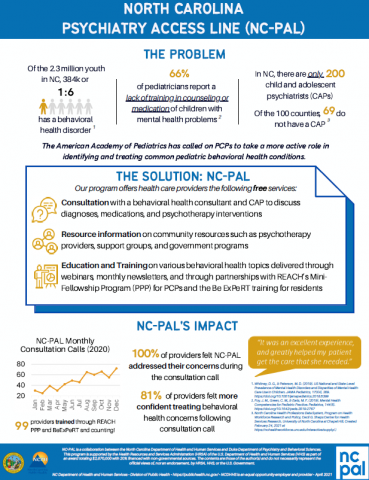 NC-PAL began in 2017 as a small pilot for a mental health telephone consultation service in six NC counties. In 2018, the North Carolina Department of Health and Human Services (DHHS) received funding from the Health Resources and Services Administration (HRSA) to expand NC-PAL statewide and integrate a perinatal consultation program, known as NC Maternal Mental Health MATTERS. Read below to learn about why and how NC-PAL helps North Carolinians access behavioral health care!
---
The Problem
Of the 2.3 million youth in North Carolina, 384 thousand or 1 in 6 has a behavioral health disorder.1
66% of pediatricians report a lack of training in counseling or medication of children with mental health concerns.2
In North Carolina there are only 200 child and adolescent psychiatrists (CAPs), and 69 of our 100 counties do not have a CAP.3
---
The Solution: NC-PAL
The NC-PAL program offers health care providers the following free services:
Consultation with a behavioral health consultant or CAP to discuss diagnoses, medications, and psychotherapy interventions
Resource information on community resources such as psychotherapy providers, support groups and government programs
Education and Training on various behavioral health topics delivered through webinars, monthly newsletters, partnerships with the REACH's Mini-Fellowship Program (PPP) and the Be ExPeRT training for residents.
---
NC-PAL's Impact
To date, 99 clinicians have been trained through REACH and Be ExPeRT
100% of callers felt NC-PAL addressed their concerns during their consultation call
81% of callers reported feeling more confident treating behavioral health concerns following their consultation call